Tuesday, October 4, 2011
05:31 p.m.
August 10, 2011, my body, mind, and spirit was waking up from a complete reboot. Four bags and an equipment case were all my possessions left in the world (not including property I still pay a mortgage on in Kansas and a few possessions my brother and his wife are holding on to for me).



My brother and I at MSP

Here in Oz, I have everything I've ever needed and wanted. People here are hard working and genuine, and I immediately notice how there isn't the same blatant waste and disregard for the earth that constantly made me very sad while in the states.
The culture here is heavier into sport, and action, and moving about. I've seen more people constantly moving here than in almost any other culture. It alone keeps the population quite fit.     The price of food, often twice as much as in the states, also has a hand in the lack of waste and the lack of unfit people.
While gambling is rampant in Australia, it also has a lot to do with the fact that it surrounds sport. They have, and always will, go hand-in-hand. Not a sport in the world is played that doesn't also have a willing group of bettors following close behind. Someday, I'll probably even find people placing bets on table tennis.



Table Tennis being played in a park in Sydney

One of my first jobs outside Sydney was south a few hours in the town of Bega. The area is well known for their dairy production, especially cheese. Since I grew up in a dairy-producing area in Southeastern Minnesota, I felt right at home in this little town just up the country from the Sapphire Coast.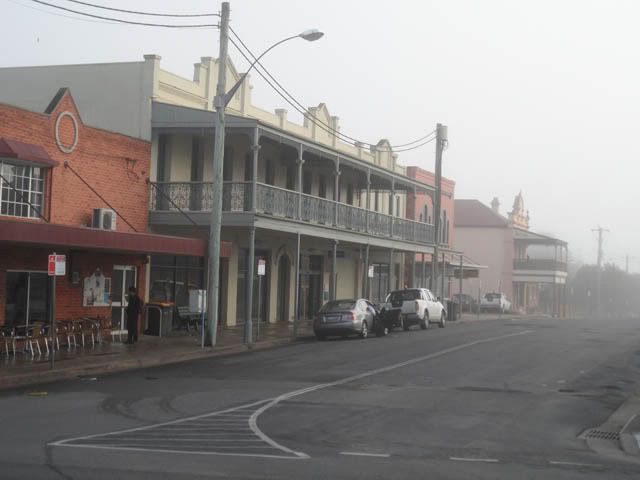 Downtown Bega

Foggy mornings, still cool air, the morning newspaper, and the first cup of coffee served in downtown Bega that day were my introductions to the people. And in a place like this, I came to realize one thing that is basically true wherever you go in the world. There are very few times when you should try not to stick out like a tourist. And there are times when people are very curious, and flaunting the fact that you're a tourist often opens the door to new friendships all over the world. But in Bega, I realized one thing that I have found in many places around Australia and in my travels in other countries. And that is that people really don't give a rat's ass where you're from and who you are. They just want to sell you a newspaper, or a coffee, and they want you to leave when you're through. Most eyes in the cafes, or the subway, or the park are just a momentary curiosity. People really don't care. They don't have the time and the energy to care. They're just going about their day, and you're just another freakish mouth-breather they've run across.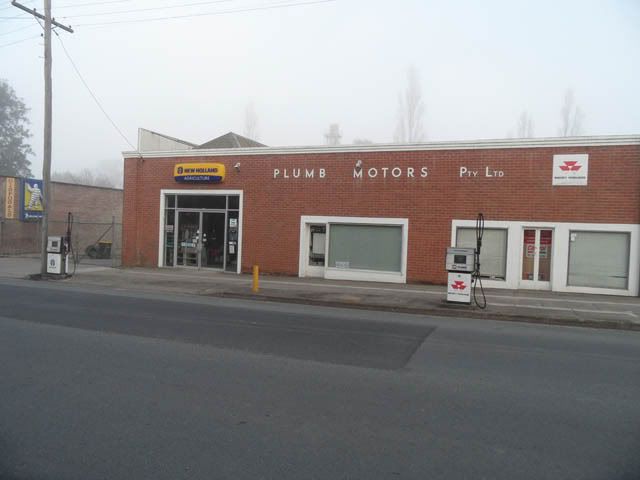 Gas Station with gas pumps on the sidewalk in Bega

What Australia has become for me is a land and a people who are living a life that's somewhere between ten years behind the rest of the world, and ten years ahead of the rest of the world. Part of that reason has to do with the weather. For one example, cars don't rust here. Now technically, everything with iron in it rusts, and you could argue that cars that spend a lot of time next to the ocean might rust, but for the most part, people over here tend to make cars last longer over here. So why hasn't this lead to a huge boom in used goods via e-commerce? Good question. Maybe it has something to do with the lack of broadband infrastructure which is quickly catching up with the demands of people across Australia.
I see gas pumps out along a sidewalk, and I wonder why the Australian's version of OSHA hasn't made a stink about it. And then again, it's lasted 50 years this way with no problems, why fix a problem that doesn't need fixing yet?



Cameraman doing country horse racing near Sapphire Coast

One of the things that brings me to little country towns is horse racing. There's horse racing on satellite, on the radio, and there are many small town horse tracks that serve a dual purpose and often become the site of flea markets, or other community gatherings.
Gambling surrounds the country racing, and they've come up with a clever system of betting that ranges from bookies who can be picked out of the crowd with their little white bags, all the way to a streamlined system that uses satellites and laptops to compute the odds. While this type of racing tends to happen outside large cities in the states, it is really only the towns and small cities that tend to host this much smaller event.



Bookies at a country track near Warren

A person who bets on horses (and other things) is called a punter. I'm sure that's a derogatory term, so I don't say it out loud. They also say tipping instead of betting. And, depending on the state, horses might run around the track clockwise, or counter-clockwise.
Horse trailers, or straight trucks that carry horses are called floats. The country tracks tend to be grass only. And food of the day tends to be meat pies and pasties, and if you're lucky the ladies serving food at the track might make real coffee instead of instant coffee (bleck).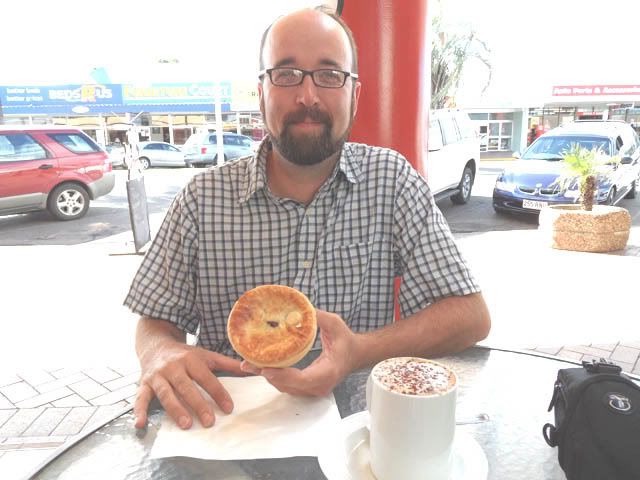 Me, with a meat pie and a latte.

The hardest part is figuring out where to live. Everybody here, especially in the Sydney area, never gives you a flat out answer to questions like that and tends to say things like – It depends. It's really a bullshit answer. Just tell me where not to live, and let's leave it at that. It's like they'd rather give you a piece of the puzzle than just giving you the whole picture.
It might just be a Sydney thing, something created by too many people living on top of each other. I just don't get that feeling anywhere else in my travels over here.



A crew sets up for a boxing match in Cronulla

Australia will continue to do well where other places have failed if they continue to do one thing well: Export. We export satellite feeds, there are quite a few musicians and actors that were exported by Australia. The Chinese are buying up insane amounts of everything they can get their hands on from natural resources to agricultural products of Australia. And while Australia isn't known for cuisine, it can be said that they are extremely well known for their ingredients.
I've heard so many people over the years say awful, ignorant things about Australian wines. But what they aren't aware of is that the land here is so much better cared for, it could very well be that in 10-50 years Australia will be the land of the best tasting wine. Blind taste tests, in my opinion, should be the only taste tests when it comes to wine, cheese, and many of the finer things. A price tag and a fancy label only seem to go so far with many of the people here, who can smell bullshit from miles and miles away.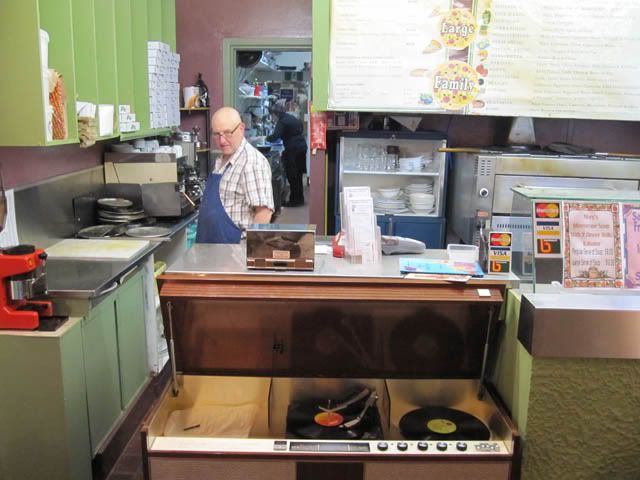 Brian and his LP player

One of the many Aussie gems I came across was Brian, who runs a pizza place with his wife in the town of Lithgow. While working at the pizza place, he occasionally goes over to a rack of second hand records he's picked up over the years, and puts it on, filling the place with the warm sounds of an old vacuum tube record player.
I signed their guestbook, one of eight or nine they've collected over the years of people who have stopped in their little pizza shop from places all around the world.
There are many things, much bigger than this pizza place, that continue to attract people from all over the world. There are performances at the Sydney Opera House, marathons, world-class surfing, scuba diving and snorkeling, and car rallies.



Setting up the Power Stage at the World Rally Championship

No matter where I go, and what I do, every day has been an adventure over here. Mostly, that's because everything is new. But I think, as I go, I'm seeing as many things that I didn't have time for and I can go experience later. Many of the places I was hoping to see were not open for the season yet. Sometimes, it's been too cold to swim in the ocean that day, or go surfing, or too windy to go flying. So I'll come back for another try later.
If there's anything I do miss (besides my family) back in the states, it's being in a place like Kansas where I can see all of the potential there. I see that here in Oz now more than ever, where there is so much potential.



Sulfur Crested Cockatoo (very cheeky birds) in the Royal Botanical Gardens, Sydney

Last weekend and this weekend have really been amazing, too. I helped NITV (National Indigenous Television) put on the Aboriginal Rugby League tournaments in Bathurst, and I'm staying over with an off-day today, until I start to set up for the V8 Supercar Races here on the mountain.
They put me up in this great little cottage, and I'll be moving to another cottage tomorrow. They were practically the only places left in town and are perfect. I've been able to enjoy the silence of the country again, get my laundry done, catch up on email and other things like this blog, and I even did a little clothes shopping. Most stores are open 9-5, so today was the first day in a while where I could spend a few hours downtown.
In some places, it's like going back to the 1980s in the states, where you could still buy a lot of things in the downtowns of little towns like this. Big stores have done the damage, but it was really the people who spent their money who made the choice to close downtown stores. Here, they stay open.
I've gotten a whole new appreciation for being a good steward toward the earth, when I see people here collect rainwater in large tanks and use it for all the non-drinking things like watering plants and yards, washing the car, or for animals.
In the states, a sheep owner might still be ostracized by neighbors, but here they're a much more important part of the community, and there is no stigma attached with owning one type of animal over another.
It's stigma or pompousness or even lack of loving the simple life that leads us to 100 years of petroleum-based automobiles and factories and cities. And pushing electric cars, solar and wind power, composting and saving water are all labeled as things that hippies and tree-huggers do in the states. That's getting stripped away now, when one of the fastest cars on the road is an electric Tesla. Last week, there was a story released about how the popularity of solar power in Queensland has now created a surplus of electricity on the grid – which they will now sell to neighboring states.
And there are immediately two things that come to mind when considering my industry, and that is that we have to keep equipment running as long as possible because it takes so much energy to make it in the first place, and we have to invest in new equipment when we can because some of our new options allow us to conserve vast amounts of power in our daily use.
Human power, and the ability to keep moving are the biggest reasons I think that living in Australia is exactly what I need to be doing at this point in my life. Hopefully I continue to learn a lot from the Aussies. And I also hope they have a few things to learn from me, too.
Sam's Blog Archive
Sam Sinke's Podcasts
Dec 23 & 29, 2005


Travel Related
Linda Hodge's Ukrainian Website
Trav Buddy



Work Related
Relay House Inc.
Digital Calculator #1
Digital Calculator #2
Farmall Cub Forum
The Newsroom
ABSAT
Mpeg 2 Symbol Rates
SNG Uplink Forum
Price Watch
Linux Newbie
Wine Headquarters
RedHat
Mandrake
Corner Bar PR
Better Whois?
Moviefone
Bit Central
Whirlwind
Friends, Colleagues, Relatives
John Donaldson Site
by Peter Gorton
A Little Lost RobotBrett Single
Marc Oldham
Susan Geary, CPRW
Stubby's Guitar Lessons
Wild Country Maple Syrup
Kieran Moore's Lost Lake Lodge
Gary Price's Page
Mark Bernstein's Page
Kory's Page
Julie Joy Bexell's Webpage
Dwight Sturtevant's Page
Amy Bowers
Pink Poodle Gourmet
Music, Art
Rage Against the Machine
Canadian Music
Homestead Pickin' Parlor
Dave's Guitar Shop
Library of Congress Photos
National Public Radio
Humor, Deep Thoughts
National Mule
National Lampoon
The Onion
Brunching Shuttlecocks
Hitchiker's Guide to the Galaxy
Snowmobiling
Polaris
Trail Conditions
Parts